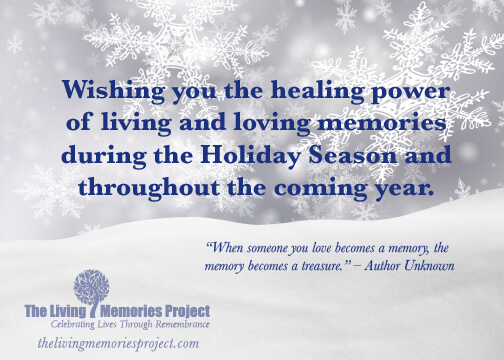 View and Send The Living Memories Project Holiday Cards
While for many this is the happiest time of the year, for those who have had a loss — especially a fresh one — getting through the holidays or lifecycle events can be extremely difficult. So it's a good idea to think of those who may be lonely or sad at this season of the year.  We've created downloadable holiday cards, which are appropriate for those who are missing loved ones. Check out our Holiday Season, Christmas, and Hanukkah cards, which send a comforting and caring message of keeping memories alive. Just download and then email or post on Facebook to show friends and family that you are thinking about them with empathy and compassion.
In My Living Memories Project Journal, there are also lists offering tips about how to get through holidays and lifecycle events after a loss – when everyone is happy – and you're not. The journal also features inspirational quotes, soothing artwork, and questions and activities to help individuals remember their loved ones' values, passions, and legacies. Along with our award-winning book, The Living Memories Project: Legacies That Last, the books make an appropriate holiday gift for those who are missing loved ones at this time of year.
Click on one of the cards below to download the jpg or share on social media.
Holiday Wishes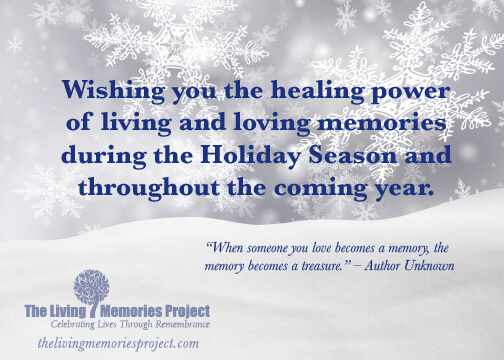 Hanukkah Wishes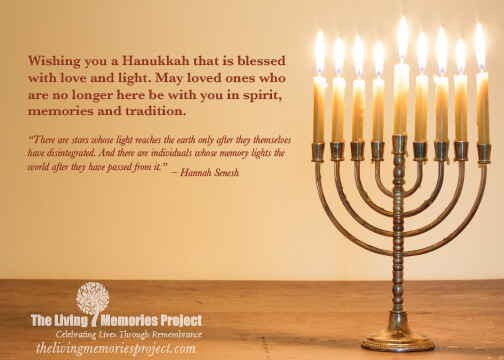 Christmas Wishes